Feature Highlights
Top key features and benefits

Salary transfer
No Need!

Credit Limit
Up to KD 1,499

Due Amounts Deduction
Upon Specific Date

Monthly
Statement

Safe and Secure
Payment Online
Overview
Kuwait Finance House is pleased to present Visa Platinum Select Credit Card. It comes with Chip and Contactless 'Visa pay Wave' technology enabling you to make payments easily and safely with advanced security features and highest international standards. This card presents the best features and privileges that can be presented by credit cards, some of which are flexible credit limit, discounts, promotions, further to limited airports lounges access.
Card Name:
Visa Platinum Select Credit Card ( Charge )
Annual fees:
KD 25 (Deducted after card issuance).
Due amounts are deducted monthly on a specified date.
Credit Limit:
Allowed credit limit starts from KD 400 to KD 1,499.
Top features:
Free annual 6 visits for cardholder to access selected airport lounges (Lounge Key).
Purchase protection and extended warranty services provided by VISA.
Global and domestic special offers from Visa.
General Benefits:
Special discounts from renowned international brands in Kuwait.
SMS Service from KFH.
E-Statement service.
KFH Benefits
Salary transfer is not required; customer can instead reserve a constant deposit or cash amount equivalent to credit limit.
The card contains a smart chip with pin number for maximum security.
The card supported with Chip and Contactless 'Visa payWave' technology.
Free online balance statement.
No interest on total due amounts.
You will receive SMS from KFH showing details of each local purchase over KD10 and each international purchase over KD15.
This card is not considered as an obligation on the customer.
Visa Benefits
KFH Visa Platinum Card allows you to benefit from many exclusive offers and privileges which you can view at this link:https://www.visacemea.com/wv/platinum/cemea_gp.jsp
In emergency cases during travel, the card can be replaced with cash by calling Visa International Free Service any time:
- In USA call +1 800 847 2911
- Outside USA call +1 303 967 1096
Up to 6 free access per year for cardholder to more than 25 selected airport lounges worldwide. Simply present your Card at the LoungeKey program participating lounge and enjoy complimentary access. You can easily search for LoungKey participating lounges at: https://www.loungekey.com/visaplatinummena.
Free insurance service against accidental damage and theft on customer purchases of non-perishable products provided by Visa. For more information, please visit: www.cardholderbenefitsonline.com
You can extend guarantee period on the purchased goods for longer time. To activate this service please call Visa International Service at the mentioned numbers. please visit: www.cardholderbenefitsonline.com
Visa Platinum Select Credit Card (charge) can be issued if one of the following terms is met:
- Customer salary is transferred to a KFH account.
- Existence of Fixed Deposit at KFH.
- Reserved cash at KFH equivalent to Credit Limit of the group.
Card is valid until expiry date shown on it, and will be automatically renewed.
The customer has to pay all due amounts before requesting to cancel the card.
Issuing the card is subject to approval from KFH and Kuwait Central Bank with reference to the credit record of the customer.
KD 25 annual subscription fees.
Due amounts to be deducted on monthly basis.
No extra charges in case of using maximum credit limit.
Apply Now For Your
Visa Platinum Select Credit Card ( Charge )
Less than 10 minutes to apply and submit your informaiton
I am interested
Visa Platinum Select Credit Card ( Charge )
Terms and conditions apply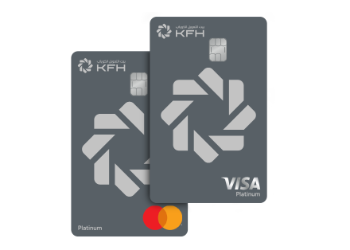 CALL US 24/7 "ALLO BAITEK" 1803333