Feature Highlights
Top key features and benefits

Salary Transfer
No Need!

Credit Limit
KD 550 - KD 800

Due Amount
0% extra charge

Installments
12 Month

Monthly
statement
We are happy to offer you "AL-Tayseer" gold credit card package that now allows you to pay the outstanding balance over a period of time. This card is in compliance with high level services presented to KFH customers and in accordance with the Islamic law "Sharia" . You can now use these cards both in Kuwait and while you travel anywhere around the world and have the advantage of easy payments.
Credit limit starting from KD 550 up to KD 800 for total of the two cards combined.
One monthly balance statement for the package.
Free e-statement option available.
Card balance can be reviewed online through "KFH Online" service or through KFH App.
Safe and secure payment as the card equipped with smart chip and online payment secured with 3D Secure service.
Salary transfer is not mandatory in order to issue the card, instead, an amount of money equivalent to credit limit can be reserved.
Due amounts to be repaid on 12 monthly installments minimum of KD 50 or 8.33% of the due amount.
No extra charges on due amounts.
Special discounts and promotions from countless international brands in Kuwait.
Visa diverse special promotions from international stores, luxurious restaurants, entertainment and travel agencies around the globe. Visit the website for latest promotions: Read More
MasterCard special offers and promotions from retail stores, restaurants, entertainment and travel agencies around the world. Kindly visit the website for latest promotions, Read More
"Al-Tayseer" Gold package can be issued if one of the following terms is met:
Client's salary transferred to KFH account,
Client has a deposit at KFH.
An amount of money equivalent to the credit limit is reserved
Issuance of this package is subject to KFH and Kuwait Central Bank approval after evaluating client's credit history.
KD 80 annual fees deducted over 12 months and will be debited in monthly installments of KD 6.666.
No extra charges in case of using the maximum credit limit.
No interests.
Apply Now For Your
Al-Tayseer Gold Package
Less than 10 minutes to apply and submit your information
I am interested
Call Back
We will contact you within 3 working days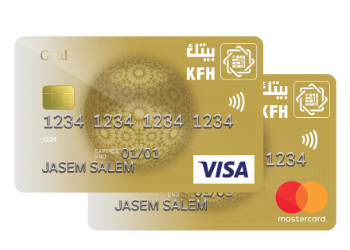 CALL US 24/7 "ALLO BAITEK" 1803333