Feature Highlights

More Purchases
More Points!

Activate Card
3,330 Free Points

Salary Transfer
No Need!

Control
Your Expenses

Secure Replacement
For Cash
"KFH-Nojoom" card is a product of collaboration between KFH and "Ooredoo" Telecommunications, offering all the features you seek in a prepaid card, in addition to special promotions from "Ooredoo" Telecommunications. With every purchase transaction, you will receive free calling minutes and discounts from many stores in reward for the points you collect.
3,330 free points upon card activation.
4 points for every1 KD purchase transaction.
Nojoom points can be exchanged with free calling minutes from "Ooredoo" Telecommunications further to promotions, tickets, fashion, restaurants and more.
Best way to control expenses, for the maximum amount you can spend is the amount you deposit in the card.
Safe and secure to use for online payment when regular account card is not acceptable.
Free online statement.
Card balance can be reviewed online through "KFH Online" service or through KFH App.
Safe and secure payment online with 3D Secure service.
Cash withdrawal possibility from all KFH ATM machines in Kuwait.
All KFH clients are eligible to obtain this card regardless their credit history.
Special discounts and promotions from countless international brands in Kuwait.
Nojoom points and exchange choices can be reviewed on the following website: Click here
Free access (Twice a Year) to VIP lounges. To review the lounges included kindly visit the website: Read More
10 KD annual fees.
The card has no balance except what is deposited by the client.
Deposits can be made by any of the following channels:
KFH Banking branches.
Permanent payment orders.
"KFH Online" App.
KFH website.
"Alo Baitak" call service on 1803333.
Other banks' clients can deposit amounts in the card through "KFH Online" App or the website.
Client must be 18 years or older.
All Ooredoo and Nojoom clients are eligible to obtain this card.
KFH account is not required.
Salary is not required.
Not considered among client's commitment.
To register in Nojoom program please do the following:
On your mobile phone press * 5 # # and follow the instructions or,
Send SMS with the letter "R" to 129 and follow the instructions or,
Call 121 from your mobile phone then select choice number 5 from the menu to register in Nojoom program.
Registration is also available on the website: Read More.
Apply Now For Your
KFH Nojoom
Less than 10 minutes to apply and submit your informaiton
I am interested
KFH Nojoom
Terms and conditions apply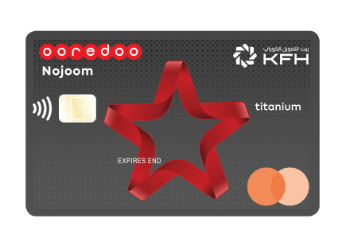 CALL US 24/7 "ALLO BAITEK" 1803333