Feature Highlights
Top key features and benefits

Salary Transfer
No Need!

Credit Limit
Up to KD 1,499

Due Amount
0%

Due Amounts Deduction
Upon Specific Date

Monthly
Statement
With Visa/ MasterCard Classic card from KFH, you will experience the freedom of shopping around the globe, in addition to many special promotion and discounts from high end international brands.
Credit limit from KD 250 up to KD 1,499.
Salary transfer is not mandatory in order to issue the card, instead, an amount of money equivalent to credit limit can be reserved.
Free e-statement option available.
Card balance can be reviewed online through "KFH Online" service or through KFH App.
Safe and secure payment as the card equipped with smart chip and online payment secured with 3D Secure service.
No extra percentage added to the total due amount.
Not considered among client's commitments.
This card entitles you special rates and discounts at many international stores in Kuwait.
KD 25 Annual subscription fees.
Due amount deducted on a pre-determined monthly date.
No extra fees apply when using the maximum credit limit.
This card can be issued if one of the following terms is met:
Client has a salary transferred to KFH account.
Client has a deposit at KFH.
An amount of money equivalent to the credit limit is reserved.
Issuance of this card is subject to KFH approval after evaluating client's credit history.
Apply Now For Your
Visa / MasterCard Classic Card
Less than 10 minutes to apply and submit your information
I am interested
Visa / MasterCard Classic Card
Terms and conditions apply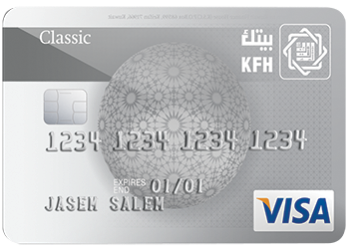 CALL US 24/7 "ALLO BAITEK" 1803333