Feature Highlights
Top key features and benefits

Every Transaction
There is Donation!

Salary Transfer
No Need!

Control
Your Expenses

Secure Replacement
For Cash

Online Statement
Free
"Al-Kheir" card is a prepaid card from KFH. It offers special discounts and promotions at Kuwait's most renowned stores; meanwhile, it is a charity card. With every transaction, KFH donates to help poor people to perform "Haj" and "Umrah".
With every transaction, KFH donates 0.25% from its value to help needy people performing "Haj" and "Umrah".
Best way to control expenses, for the maximum amount you can spend is the amount you deposit in the card.
Safe and secure to use for online payment when regular account card is not acceptable.
Free online statement.
Card balance can be reviewed online through "KFH Online" service or through KFH App.
Safe and secure payment online with 3D Secure service.
Cash withdrawal possibility from all KFH ATM machines in Kuwait.
All KFH clients are eligible to obtain this card regardless their credit history.
Special discounts and promotions from countless international brands in Kuwait.
10 KD annual fees.
The card has no balance except what is deposited by the client.
Deposits can be made by any of the following channels:
KFH Banking branches.
Permanent payment orders.
"KFH Online" App.
KFH website.
"Alo Baitak" call service on 1803333.
Other banks' clients can deposit amounts in the card through "KFH Online" App or the website.
Client must be 18 years or older.
Salary is not required.
Not considered among client's commitments.
Apply Now For Your
Al-Khair Card
Less than 10 minutes to apply and submit your informaiton
I am interested
Al-Khair Card
Terms and conditions apply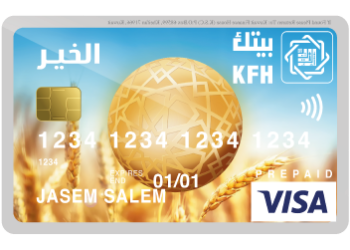 CALL US 24/7 "ALLO BAITEK" 1803333