Feature Highlights
Top key features and benefits

"Takaful"
Insurance

Investment Plan
Flexible

High
Returns!

Termination
At Any Time

Target Investment
5,000-60,000 KD
There is nothing more worthy than your health. When the best health care is required, be sure that we at Kuwait Finance House (KFH) will be by your side.
"Shifaa" offers you a plan based on monthly saving, while earning higher investment returns on your savings along with "Takaful" cover. If and when facing critical health circumstances, savings and "Takaful" cover (Specific Illnesses) will assist to meet the required medical expenses.
All needed is to open "Shifaa" plan and determine the targeted amount, Kuwait Finance House (KFH) will take care of the rest.
Flexible investment plan.
Higher investment returns.
"Takaful" Insurance protection for major (Critical) illnesses, death and permanent total disability.
Availability of saved funds for emergency.
The target amount or monthly saving amount can be changed at any time .
Withdrawal up to 40% of the saving amount by the end of 1st year.
After the first withdrawal, 30% of the saved amount once every two years.
The client can deposit any amounts in addition to the withheld monthly saving amounts without affecting the schedule of the plan.
"Shifaa" investment plan can be closed at any time. All saving and declared profits in "Shifaa" account will be refunded.
Target saving amount ranges between KD 5,000 to KD 60,000
The client should be between 21 to 60 years.
Saving period ranges between 5 years to 15 years.
The plan, when opened, will be automatically covered by "Takaful" insurance policy. The policy will cover the unpaid savings due to death, total disability including sickness or accident and critical illness.
Critical illness can have a massive impact on a person's health and at the same time effect the person's finance situation. If the person has been diagnosed with one of the below listed illness as per the policy conditions the plan target amount will be paid to the person.
Cancer - excluding less advanced stages.
Myocardial Infarction (Heart Attack).
Stroke - resulting in permanent symptoms.
Coronary Artery Bypass Graft Surgery - to treat multi vessel coronary artery disease.
Surgery of the Aorta - including minimally invasive procedures.
Heart Valve Surgery - including minimally invasive and catheter-based procedures.
End-Stage Renal Disease - requiring permanent dialysis.
Profound Vision Loss – irreversible.
Paralysis of Limbs – total and irreversible.
Major Organ, Composite Tissue or Bone Marrow Transplantation.
Multiple Sclerosis – with persistent symptoms.
Apply Now For Your
"Shifaa" Investment Plan
Less than 10 minutes to apply and submit your information
I am interested
Call Back
We will contact you within 3 working days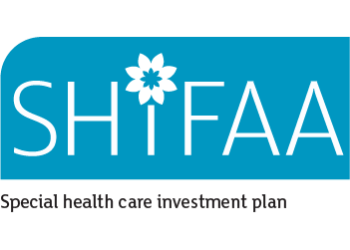 LOCATE THE NEAREST BRANCH OR ATM

CALL US 24/7 "ALLO BAITEK" 1803333