Feature Highlights
Top key features and benefits

Special Offers From
Hotels And Stores!

Free Access
To Lounges

Insurance Services
Free!

Daily Credit Purchases
Up To 15,000 KD

Daily Cash Withdrawal
Up to 5,000 KD
It is "Visa infinite" card unlimited privilege is what gave this card it is name. We keep this card as exclusive privilege for KFH VIP clients only!
Jumeirah Hotel offers Visa Infinite cardholders up to 25% off stays at Jumeirah properties, For details please visit www.visamiddleeast.com
Avis offer Up to 35% discount on Standard Rates, and up to 30% off of International Leisure rates. simply visit www.avisworld.com/visa
YQ is a global network of specialist airport meet & assist service partners, Offer discount of up to 30% off retail rates for Visa Infinite cards at over 450 destinations globally -Visa Infinite cardholders can book via https://cemea.yqnowgroup.com/
The client gets the privilege of free using VIP lounges in more than 1000 airports in more than 300 cities around the world. In addition to facilitating their access through passport control and customs checkpoints. Visit the following link to get more details: Click Here
The client will get best prices with immediate upgrade for the booking in addition to many other VIP privileges such as free in-room breakfast service. Click Here
Free health insurance up to 1,000,000 USD.
Free personal insurance up to 1,000,000 USD.
Free multi travels insurance.
Free "Concierge" service to help you organizing your travel, buying tickets to concerts and sport events, hotels and restaurants reservations, further to buying gifts and flowers.
For more details please visit the website: Click Here
or call one of the following numbers:
+97143611234.
+61299471444.
Free insurance against accidental damage and theft for client's purchases.
The card contains a smart chip with pin number for maximum security.
Free online balance statement.
No interest added to due amounts.
You will receive SMS from KFH showing detail of each local purchase exceeds 10 KD, and international purchase exceeds 15 KD.
This card is not considered as one of your financial obligations.
Credit daily purchases up to 15,000 KD.
Daily cash withdrawal up to 5,000 KD.
With "Visa Infinite" you can enjoy a meal with family or friends in luxurious restaurants around the world. In addition, to booking priority and many more privileges. To view details, kindly "Visit" the website: Click Here
In emergency cases during travel, the card can be replaced with cash by calling "Visa" International Free Service any time:
In USA call +18008472911.
Outside USA call +13039671096.
Free one year insurance against accidental damage and theft for client's purchases of goods and products up to 20,000 USD annually.
You can extend the insurance period on the purchased goods using this card to benefit the free insurance for two years within the limit of 20,000 USD annually.
Enjoy up to 20% off at 5 stars Hotels restaurants in Kuwait : Click Here
This card is exclusive for KFH Private Banking customers.
The card is valid for 5 years and will be automatically renewed at the expiry date.
Apply Now For Your
Visa Infinite Card
Less than 10 minutes to apply and submit your informaiton
I am interested
Call Back
We will contact you within 3 working days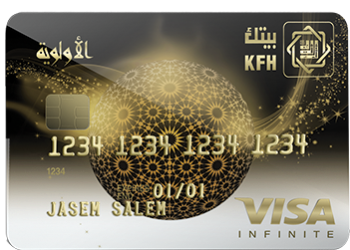 LOCATE THE NEAREST BRANCH OR ATM

CALL US 24/7 "ALLO BAITEK" 1803333